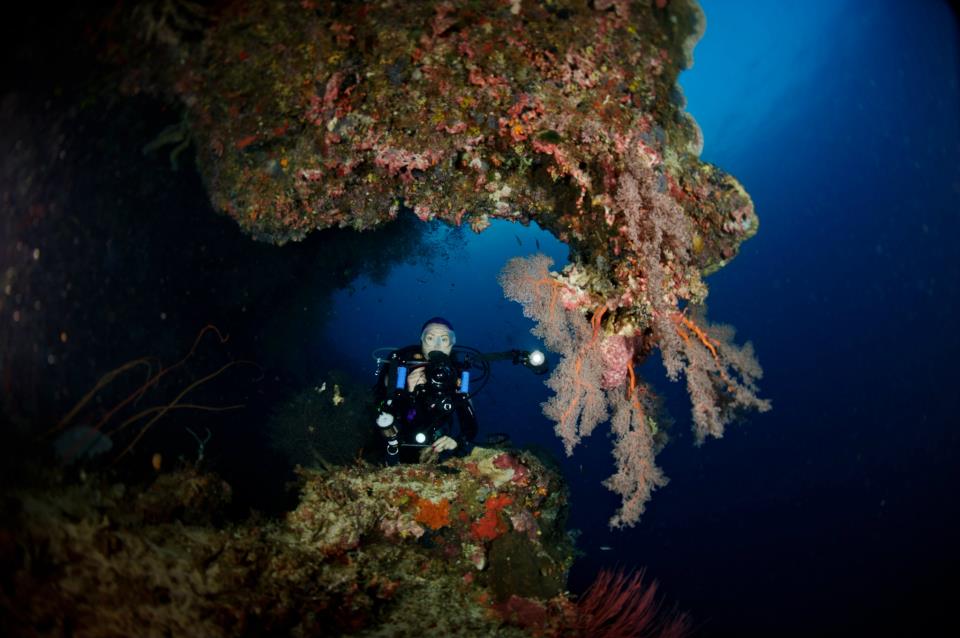 The Tubbataha Reefs lies at the heart of the Sulu Sea right between the Philippine islands of Palawan, the Visayas archipelago and the northeastern flank of the island of Borneo.  It is situated at the heart of the Coral Triangle – an area that is renowned for having unparalleled biodiversity in terms of coral species. The Tubbataha Reefs are protected by Philippine Law and its stature as a marine and bird sanctuary has allowed for the thriving of many species that are considered threatened elsewhere.
Tubbataha is said to contain almost 400 species of coral (more than 50% of all known coral species in the world). Surveys have put fish biodiversity at around 600 species of tropical fish, 14 species of sharks and rays (including tiger shark, hammerheads and manta rays) and 12 species of whales and dolphins.
The name Tubbataha comes from the Sama-Bajau words tubba and taha meaning "a long ridge that is exposed at low tide". Even in precolonial times, the indigenous sea-faring peoples of the area have ventured out into the middle of the Sulu Sea to fish in the rich and prolific waters of Tubbataha. This can be considered quite a feat since Tubbataha is 130 kilometers from the nearest non-sand island (Cagayancillo, Palawan) and 150 kilometers from the nearest city (Puerto Princesa City, Palawan).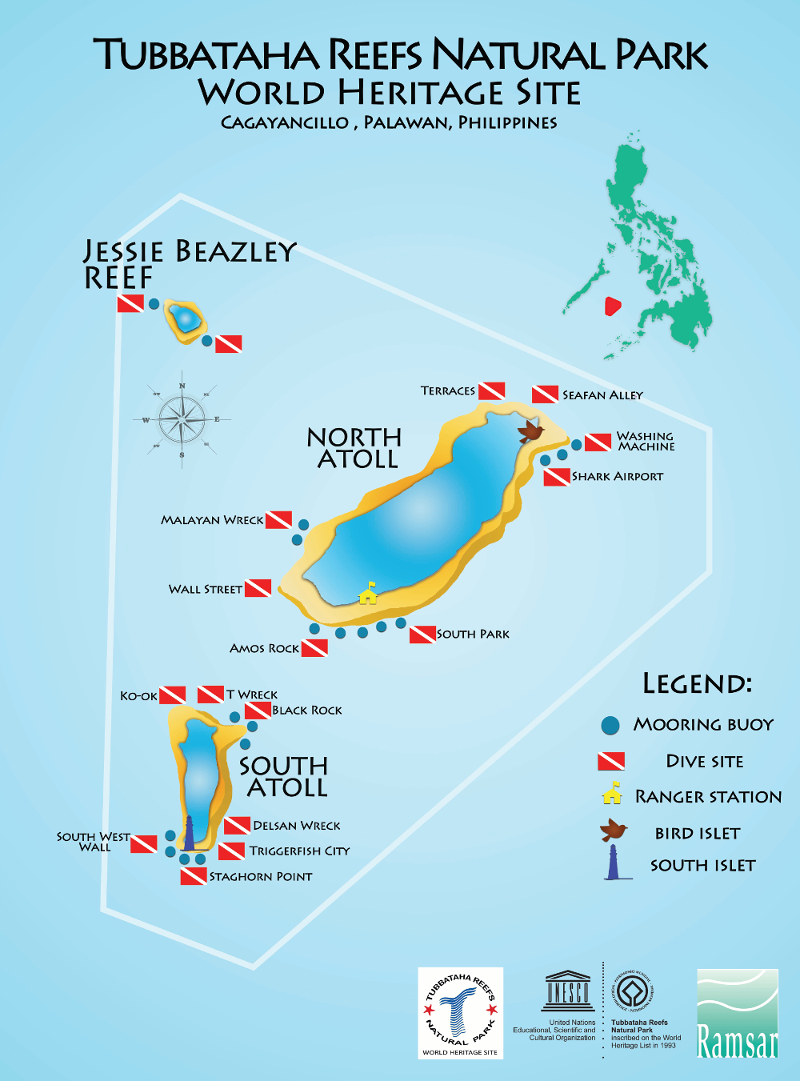 The Tubbataha Reefs are enclosed within Tubbataha Reefs National Park. The Park measures 97,030 hectares and consists of three atolls.
The North Atoll is the largest of the three coral structures in Tubbataha. The Ranger Station – the base of the coast guard and park rangers that secure Tubbataha is located in the southern tip of the North Atoll. There is also a bird islet that serves as an important stop over for migratory birds.
Dive sites
Terraces
Seafan Alley
Washing Machine
Shark Airport
Malayan Wreck
Wall Street
Amos Rock
South Park
The South Atoll is favored by many divers due to frequent spotting of Manta rays in its popular dive sites. There's a automated light house at the southern tip of the atoll to warn ships that are nearby.
Dive sites
Ko-ok
T-Wreck
Delsan Wreck
Black Rock
South West Wall
Staghorn Point
Triggerfish City